We present all of our recent and very lucky prize winners. It could be you! Check out our events page for current contests and draws that you can enter and tell your friends about.
Grand Prize Winner, Contiki #GETME2EUROPE
Congratulations to Taylor who won the Grand Prize of a trip to Europe with Contiki Holidays plus $1000 in airfare from Merit Travel! Also congratulations to Danielle and Wesley who both won a special Contiki prize pack!
Oscars Contest winners
Congrats to Michelle, Emily, Ellery and our other winners of Oscar Prize packs!
Grand Prize Winner, Bookstore Open House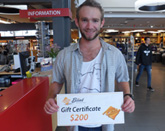 Congrats to Brett who won a $200 Bookstore gift card along with a $200 gift card to Blink Print!
Runner-up Prize Winner, Bookstore Open House
Congrats to David who won a $50 Thrifty Foods gift card and a $20 iTunes gift card!
Custom Department Draw Winner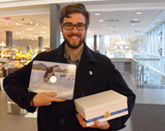 Congrats to Anthony who won a prize basket filled with UVic swag and Roger's Chocolates!
Finnerty Express Coffee Passport Winner
Congrats to Mandolin who won the Finnerty Express Coffee Passport Contest!
Staedtler Bike Giveaway
Congrats to Belky! She was the lucky winner of our Staedtler bike giveaway.
Pentel Tablet Draw
Congrats to our winner Jessica! She won our Pentel tablet draw.
Beats Headphones Draw
Congrats to our winner Mike! He won our beats headphone draw held during UVic's 2014 orientation.
Selfie Contest
Congrats to our winner Yuko! She won our selfie contest held during UVic's 2014 orientation.
March Madness Bracket Contest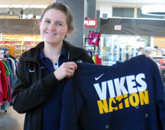 We had three winners that scored the most points in their NCAA Men's Basketball March Madness Tournament brackets and walked away with official Vikes Nation gear and ultimate bragging rights!
1st place with 142 points
2nd place with 132 points
3rd place with 130 points
Contiki Holiday Contest
Brenden won a European Magic Contiki Tour + $1000 airfare from Travel CUTS. He will be tripping through Europe visiting 7 countries in just 10 days! Happy travels Brenden!
Xmas Buyback - iPad Air
Constantin is the happy winner of an iPad Air for our 2013/2014 Winter BuyBack promo. Most of you walked away with a little something - thanks for choosing us to sell your books back.