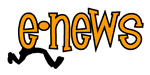 Take a second to introduce yourself below and you'll be the first-to-know about our services, sales and events, including 'Secret Sales' just for e-news members. We only send a note when we have something of value to you. Your privacy is guaranteed and you can unsubscribe anytime. Welcome to e-news.
Students
Sign-up and receive reminders about how to get cash for your books, textbook return deadlines, author events, sales & special events.
Faculty
Stay up to date on course material order deadlines, faculty authors, sales & special events.
University Staff and other interested parties
You'll be first to know about author readings, sales & special events.
To unsubscribe at any time...