The Girls' Diary Project
Shannon McFerran and Daniel G. Scott
$20.25 | Paperback | 9781550584875
The Girls' Diary Project project explored original diary material revealing many insights into the development of self-awareness and self-presentation in girls´ adolescence. Now, The Girls Diary Project: Writing Ourselves Into Being opens the locked books on the inner lives of girls, to begin to understand and honour the intense and complex passage into adulthood, as it is expressed by girls themselves.
Please order Print version here. Please order eBook version here.
Community-University Research Partnerships: Reflections on the Canadian Social Economy Experience
Peter V. Hall and Ian MacPherson
$29.50 | Paperback | 9781550584493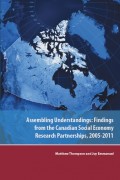 Assembling Understandings: Findings from the Canadian Social Economy Research Partnerships, 2005-2011
Matthew Thompson and Joy Emmanuel
$19.00 | Paperback | 9781550584578
Canadian Public Policy and the Social Economy
Rupert Downing
$48.00 | Paperback | 9781550584530
Scandinavian - Canadian Studies
John Tucker
$19.00 | Paperback | 9780000103116