Christine Walde :: UVic Libraries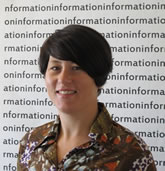 Christine Walde has been published in several literary journals and print publications for her poetry, fiction, and non-fiction, including appearances in The Antigonish Review, Branch, Border Crossings, Carousel, Descant, The Fiddlehead, Hunter & Cook, The Rusty Toque and Vallum. She has published two novels for young adults: Burning from the Inside (Dancing Cat Books, 2013) and The Candy Darlings (2008, Penguin Canada). In 2011, Baseline Press published her first poetry chapbook, The Black Car, based on her research with Sylvia Plath's archives. She recently completed a full-length poetry manuscript, Cloud Country, about Sylvia Plath and Ted Hughes' camping trip through Canada in 1959.
Born and raised in London, Ontario, Walde now lives in Victoria and works as a librarian at UVic Libraries where she specializes in Grants and Awards, and is the acting English subject librarian.
Titles by Christine Walde
Candy Darlings
Christine Walde
$14.00 | Paperback | 9780143056218

Candy Darlings
Christine Walde
$14.95 | Paperback | 9781770862463